Have you ever been told you need to talk from your diaphragm?
"Speak from the diaphragm" is incredibly common advice given to those looking for a strong, powerful, projected voice. But what does it really mean, and how do you do it?
There are a lot of well-meaning coaches and articles out there teaching that the key to confident, powerful speech is to speak from the diaphragm. Well, in my decades of work as a voice coach and speech pathologist, I've become pretty passionate about busting that myth wide open and helping people understand what those coaches and articles really mean (even if they don't realize it).
In fact, I'm so passionate about it that I've made a whole mini-course on the topic, which I'd like you to have as my free gift.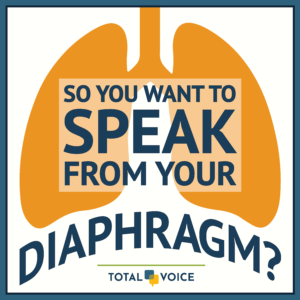 Sign up below, and within minutes you'll have the complete course in your inbox, including:
a 15-minute audio lesson with guided exercises to help you experience what we're discussing in your own body
an accompanying PDF guide covering the same information in written form, with images
a full transcript of the audio
So let's meet your diaphragm, learn its role in speaking, and explore the true foundation of a powerful and confident speaking voice!